Life Today
With Bridget, we sit quietly at her side, hold her hand, play some music and massage her legs. She lies in her bean bag, on the couch or on her massage/mat table in the family room, unable to get up or even move voluntarily. Bridget's hands curl up at her sides and she requires physical therapy every day. She likes to pull her left leg in resulting in a dislocated hip. Her head sometimes gets stuck turned to the left, but she makes no eye contact as her feeding tube pumps in the necessary formula to sustain her each day. She takes medication 2-3 times a day, may have to have suctioning, as well as nebulizer treatments and occasional oxygen. Bridget has no way of communicating with us, other than a grimace on her face when she's in pain. She requires 100% assistance with everything she does.
But, this little girl wasn't always like this! We remember everything about her life.
Bridget Rose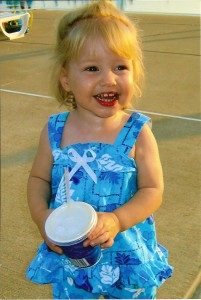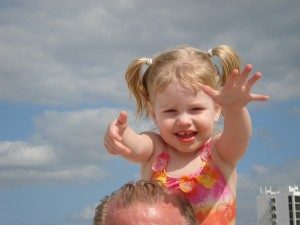 Bridget was born on November 11, 2004 and is the youngest of two children. Her big brother, Harrison, will be seven on August 15.
Bridget was always an energetic, lovable, spirited little girl who wanted to go, go, go. Little Miss Busy B could not sit still long enough to learn speech and was admitted to the Early Intervention program at age two, which made a marked difference in her progress. At age three, she qualified to go to our school district's Early Childhood Program where she continued to make strong progress in speech and learned to love school.
When Bridget's first seizure occurred on January 22, 2008, the emergency room doctors ruled it a febrile seizure caused by a spike in temperature. The seizure was brief, but the experience terrifying. When Bridget had another seizure in February and again in early March, we were finally able to consult a neurologist. On March 20, 2008, Bridget had her worst seizure yet, lasting 14 minutes. We began a treatment of anti-seizure medication that night, saw the neurologist the following week, had two EEGS and a MRI. Her brain MRI appeared normal, but EEGs were abnormal, suggesting a seizure disorder (epilepsy). Conditions didn't stop there, however. Bridget began to loose coordination, muscle control and she experienced photo-sensitive seizures. Things went from bad to worse.
While conditions for Bridget were rapidly declining, we sought the care of the Director of Epilepsy at Rush Medical Center in Chicago, Dr. Michael Smith. In December 2008 and March 2009, Dr. Smith conducted extended video EEGs, a spinal tap and muscle and skin biopsies.
On April 20, 2009, Dr. Smith shared the results with us. Bridget's lysosomes were not breaking down the fats or "garbage" in her cells, actually killing the cells. This result paired with her epilepsy diagnosis led us to an initial diagnosis of Batten Disease. This was confirmed with another blood test on May 11, 2009.
There is no preparation for devastating news like this. We knew that our little girl struggled with health and development and that she may not be able to talk. This, however, was far beyond our imagination. In this day of technology, we research and email and call to try and find treatment for Bridget. Yet, there is none. Our journey with Bridget is to take one day at a time. We realize our efforts to help find a treatment may be too late for Bridget, but we forge ahead to fight for other children like Bridget.